MAY 2001
This is selected highlights from Lindfield United Reformed Church's monthly magazine, Good News. It is freely available from the Church and Lindfield Post Office. The printed edition also contains useful information regarding local meetings and 'Family News'.
If don't live in the area, and wish to recieve a copy of the magazine, please Email the Editors.
---
Contents this month:
• Worship in May (Norman Smith)
• Letter from the Minister (Brian Stone)
• Feeling let down (Suzy Jacques)
• Ashburnham Place (Jessie Green)
• Lyn and Richard – growing up (Lyn & Richard Tucker)
• Spring Harvest reports from 2001
• Hospitality of the heart (Mike Gardiner)
• Take a banana on your way out (David Tingley)
• Boys Brigade (Geoffrey Cocksedge)
• Marys musings (Mary Comber)
• Sussex Christian Camps (Peter Trump)
---

Worship in May
6th

9.30am Richard Walters and Norman Smith
11.00am Norman Smith
6.30pm David Nibloe and Norman Smith

13th

9.30am Richard Walters and Barry Piper
11.00am Graham Campling
6.30pm Communion — David Nibloe and Norman Smith

20th

9.30am Communion — Norman Smith
11.00am Michael Davies
6.30pm David Nibloe and Norman Smith

27th

9.30am Richard Walters and Norman Smith
11.00am Communion and Healing — Norman Smith
6.30pm David Nibloe and David Walters
Personal prayer is available after every service. Prayer requests and brief statements of praise for answered prayer can be put in the red book on the concourse table. You can ask the minister for personal prayer ministry at home or in hospital.
---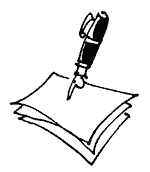 More Jottings from Elsewhere!
"To buy or not to buy, that is the question!"
These misquoted words from Shakespeare's 'Hamlet' have been much in my mind just recently. With retirement looming over the horizon and the need to move from our 'tied cottage' in Haywards Heath, we have plunged into the turbulent waters of house purchase. It has been a steep learning curve and not least in exploring the world of the estate agent. It has amazed us how every property that comes on the market is such an attractive purchase! Indeed, the houses are all such wonderful residences that I am surprised anyone should want to sell them!
We are quite sure, however, that, in God's good providence, just the right house is waiting for us and it will come at just the right time.
The issue of retirement has also challenged us to seek God's guidance in other matters. Those who have been through the experience will know what I mean. There is a host of decisions to be taken and some of them may affect life for many years to come. Yet, the seeking of God's guidance is something that touches every aspect of life all the time, not just at retirement. All our decisions, all our choices, should be made with the desire to fulfil God's purposes. So, a basic question for every Christian is: "How do I know what God wants me to do?"
There are standard answers to the above question. I discover what God wants me to do by prayer and the study of the scriptures, in worship and meditation, through fellowship with other Christians and listening to the still small voice within me. These are honoured channels of God's guidance and I am wise to give them quality time in my busy life. However, they are not the complete answer. If they were, there could be the temptation to sit back and say to "God, "Can you please tell me simply and clearly exactly what you want me to do? In your own time, of course, but hopefully sooner rather than later."
Thankfully, it doesn't work quite like that. Something more is needed and that something is a life that is close enough to God to be able to hear what he is saying. Our lives must be increasingly in tune with God's life so that our spiritual reception (perception) will recognise his guidance for what it is.
In the early church, the Desert Fathers sought to grow closer to God by long solitude and deep meditation in wilderness places. They emphasised the importance of 'being' and not 'doing'. But, for most of us, a spiritual life of that kind is not possible. However, they do challenge us to set the priorities of our lives in such a way that we can deepen our relationship with God as we know him in Christ. As our relationship deepens, we will see more clearly what God is asking of us — the choices he wants us to make. The choices may not grow any easier. The pressure of deciding may stay with us but we will know that God is sharing the pressure with us.
Now, where did the estate agent say that house was? That looks very good! What do you think about it, God? Should we make an offer?
Brian Stone
---
Feeling let down
I hadn't made it to badminton in weeks. Working late had put a stop to that. But that night, I was going to make it. I got up especially early to get a train up to London to start work at 8.30am so that I could leave bang on the dot of half-past five without feeling guilty. And that's just what I did.
With a smile on my face, I nipped over to Blackfriars and waited for the train. "Come on little train" I thought to myself, quite cheerily, as the clock ticked nearer to, and then past, 5.45pm. I wasn't even put off by the announcement that the Beckenham Junction train would actually be coming first - what was a five- or ten-minute delay? I'd still be home before 7.00pm.
"I'm sorry to announce that the 5.45pm to Brighton has failed at Farringdon. Customers are advised to use alternative routes."
My good mood was gone in a flash. I could have screamed. The past few months had been filled with landslides, floods, cancellations, staff shortages, delays … and here was one more. Why should I have been so surprised? Why on earth did I place any faith at all in the idea that our railway system was going to get me home on time? Did God not want me to get to badminton?
Hang on? Where did God come in? Since when did God run the railway system? Now, granted, it could be argued that he had his part to play in the floods and landslides but, the last time I read my Bible, I didn't find any reference to God being in control of electricity at Farringdon. (Well yes, he is in control of everything, but I'm pretty certain that he wasn't playing with his train set that evening). What right did I have to blame God for this?
Now that I've had time to cool off, I can see that, although I don't believe it was God's intention to ensure that I didn't have a good time by making it home in time for badminton, he still used the situation to teach me a lesson.
When things are out of our control, we shouldn't automatically blame God. God is good. God wants what's best for us. However, all human choices and decisions, whether made by us, or others, affect our lives as much as what God may allow to happen to us.
God never lets us down. There is no point in putting our faith in the trains — their past history has shown that they will fail us. But we can put full faith in God — his perfect love will never fail us. We may not understand why he has let these things happen to us, but he never stops loving us.
My university friend, Louise, and I have a similar dislike for the glib use of Romans 8:28 — usually by married people trying to be encouraging at our singleness. "And we know that in all things God works for the good of those who love him, who have been called according to his purpose." But its words are true. Though God does not make bad things happen to us, he will still let us go through them. We cannot become immune simply because we are Christians. But he does work for our good — even if it's just teaching us a lesson in faith.
Suzy Jacques
---
Ashburnham Place
Are you planning to go to Ashburnam with our church, in November? Have you been thinking about it and cannot decide? May I try and help you make up your mind.
In March, I went on a Christian Writing course at Ashburnam Place. I had seen it advertised in my Writer's Magazine. As I had already put my name down for November, I thought I would go and see for myself what it was like. The last time I went was about twelve years ago when our church went for a weekend conference. I can honestly say I was amazed at the transformation. So much has been done since I was there. It has virtually been rebuilt. I found the facilities excellent. The Head Cook and her chef husband make an excellent team. They also cater for special diets. Much of the fruit and vegetables are grown at Ashburnam. There are little areas near the bedrooms with constant boiling water, coffee, tea, milk etc., night and day. There is a delightful conservatory where coffee and tea is served morning, afternoon and evening. There is a well-stocked bookshop selling a wide range of Christian books, tapes, gifts and postcards.
There are prayer rooms for private prayer and a delightful scented prayer garden available to guests at all times. Ashburnam is set in 220 acres of landscaped grounds, with woods, lakes and beautiful gardens. As the brochure says: "It is the ideal location to be refreshed in God's presence." I do, indeed, thank God for the experience.
Jessie Green
---
LYN AND RICHARD ARE "GROWING UP" … AND HAVE TAKEN "ONE STEP FORWARD"
"One Step Forward" was the name of a training day set up by the Sussex East District, at Hassocks URC, at the end of March, and we joined in. It was very good (free hot dinner) and we shared our thoughts and visions with all sorts of people.
"Growing Up" is the plan of the United Reformed Church in a call to mission and bringing all Districts together to engage in prayer and planning is the first Step Forward.
There were ten workshops covering many aspects of church life and mission. Workshop sounds dull and a bit like hard work. They were not dull because of those who took them and the people who made up the groups, but our brains and spirits were certainly challenged.
Lyn took part in a group looking at "The Church and Children" and shared in examining the "Church's Image in the Community". Richard wrestled with "Understanding our Culture, Post Modernity" and then joined the group on "Developing a Mission Strategy". The sessions all together developed our understanding of the whole vision behind "Growing Up".
Did the churches come alive? Was the world changed? We achieved the objective of taking one step forward. The sharing, listening and worship helped us to see more clearly the challenge of bringing the unchanging gospel to a changing world. The churches have to develop that vision given or we shall begin to take a step backwards.
Another step forward will be a District Day of Prayer for revival and renewal. For Lindfield URC, the weekend in November? Let us pray so!
Lyn and Richard Tucker
---
Balcombe URC — Preachers
PREACHERS
6th May Donald Nisbet – Hymn Choice
20th May Frank Mugridge
Services are normally held on the first and third Sunday of the month, starting at 11.00am and usually lasting about an hour.
FRIENDSHIP LUNCH
This is held on the second Sunday of the month, at 1.00pm. We extend a warm welcome to everyone, whether or not they are connected with a church. There is no charge – we just ask people to bring some food to share. From time to time, we have a speaker who will give a short talk, or watch a short video following the lunch.
Before the lunch, we hold an informal family service, at 12noon, to which you are also invited. We are pleased for people to come to one or other, or both.
Leonie Wren
---
REPORTS FROM SPRING HARVEST 2001
From Janet Kent:
"It was my first time of going to Spring Harvest. Packing on the Friday night, my emotions were running wild. Could I face leaving my 16-year old son at home on his own for the first time. What would the house look like on my return? Would Janet and Ron put up with my funny ways for five days? Would I be brave enough to phone Ron and say I could not go.
Saturday night in the big top was amazing – a tent filled with thousands of Christians celebrating the Lord. The most moving moment was on Sunday night, at the Kaleidoscope celebrations. The story of Matthew was told, a story I had heard many times but, this time, it hit home. Jesus wanted the most unlikely people to follow him, people that others rejected. A drama of how a street-girl found the Lord. It struck me then that I am forgiven, my past forgotten, I am special to Jesus. The whole week at Spring Harvest, from then on, was so amazing. I felt so close to God. It was the most precious time that I have spent with Jesus.
Janet and Ron managed to put up with me, as well. I thank them for all their support."
From Tom Elphick:
"WAS SPRING HARVEST READY FOR ME'
After suffering the deep and agonizing trauma of being up and moving before twelve o'clock, things started to come into focus that I was going to Spring Harvest. What better way to start a trip than to have your friends (Katy, Elena and Sam) spend a couple of hours cracking jokes at how much luggage I was taking. Just because I had more luggage than all of them put together only adds up to one thing – I was probably the best-dressed person at Butlin's. The first evening venue I attended really started my week off with a bang. In that session, I admitted to myself that my faith was failing and, however hard I had been trying to hide it in the last nine months, I couldn't carry on like that. By the end of that evening, I could have been described as an emotional wreck!
Every morning, for the next five days, started, at around 7.00am, with the wonderful visit from Ron Goodenough who decided to start the day with a coffee, which is fine but, when you are sleeping in the front room, which is joined to the kitchen and the kettle sounds very similar to a low-flying Boeing 747, it kind of puts a dramatic halt to a teenager's sleep pattern.
I usually started the days at Spring Harvest by attending a Bible reading session, lead by Jeff Lucas, (who had a slight obsession with the Butlin's ducks but that's another story). Next on my list was another morning workshop, followed by lunch then two more workshops which, for me, tended to be something arty and creative.
After this, we returned to our chalets for a nice, cooked dinner – Okay, basically pasta and different sauces. Personally, I found the evening celebrations the most effective. Before Spring Harvest, I was feeling like a bad Christian because I don't talk to God enough. I make lots of mistakes and I take in people's problems and hold them to my heart – I usually think of them as my responsibility. But the second night at this celebration, I felt so close to God that I put all my problems at the foot of the cross, which just felt fantastic, a massive weight taken off my shoulders and then personal prayer that made me weak at the knees. People walking across the room and putting their hands on my shoulder and praying for me etc. So much happened that night!
Probably the most important event of that week was when I actually renewed my faith. I asked God back into my life. People around me knew I did it because I wouldn't shut up about it. It was amazing! Finally, I'm just going to say that I had a life-changing experience. My faith is stronger than ever, I worship harder and deeper than ever before. Everyone should go (to Spring Harvest) next year because there is something for everyone and what better way is there to praise God?"
---
HOSPITALITY OF THE HEART
I read the following startling comment in a book about spirituality: "Many churches are not safe places in which to have major spiritual experiences, whether negative or positive." Thought-provoking, isn't it?
It set me wondering how much we, as Christians, have really learned about rejoicing with those who rejoice, mourning with those who mourn – which means not only those who have passed an exam, celebrated a wedding anniversary, fallen ill or been made redundant. It includes being able to enter into the joy of someone "caught up to the third heaven" (to use the words of the Apostle, Paul) or to stand alongside someone passing through a spiritual wilderness. It needs, perhaps, something that has been called "the hospitality of the heart" – another arresting phrase. I interpret it to mean having enough of the peace of God not just for my own needs, but with sufficient to spare for others.
I'm learning that this sort of spiritual resource comes only by spending time with God and by feeding my soul on what is good, sound and wholesome. There are no short cuts. Lord, help me to be big-hearted enough to have space to spare for fellow-pilgrims, be they rejoicing or despairing!
Mike Gardiner
---
TAKE A BANANA ON YOUR WAY OUT!
I have to say, it is not a typical holiday! Life at Spring Harvest is never quite what you expect. By definition, it is a short break, staying at an out-of-season Butlin's site, utilising all the venues as part of a huge and varied Christian-specific programme. However, the whole event inspires even more when you go and develop friendships with your own church.
On 12th April, nearly 30 of us returned from sunny Minehead (yes, it was actually sunny most of the time). Six days of getting used to calling days numbers, instead of names, and sharing our locality with nearly 9,000 other Christians and a goodly number of rampant ducks! I know there are some reading this who reckon this to be more like their idea of Hell than Heaven – but being with so many like-minded individuals does have its encouragement. As well as huge corporate worship in a Big Top, there were opportunities to hear from speakers on a range of practical subjects and to experience worship in different forms.
With our accommodation being self-catering, plans were made prior to leaving for Somerset to ensure that we didn't over-stock our supplies. As someone once suggested, it is the best-laid plans that go wrong. Well, they didn't so much go wrong as a little off-kilter! Little, for instance, did we know that we would end up cooking a whopping 9lb Ham joint (there was only four of us in SS106!) – and spend the rest of the week thinking of ways to make ham sandwiches look interesting! Similarly, in our chalet, we were overrun with fruit. Only in the East End had such a large variety of fruit previously been seen. If we thought our mammoth fruit bowl was the end of it, we only had to reach into a cupboard for a saucepan to chance upon a secondary supply of the green-skinned dessert! In the end, we had to introduce a rule that anyone who entered our chalet was to leave clutching or eating at least one banana! Firm but fair!
Some other amusing incidents that you find yourself experiencing first-hand are such delights as the necessity to hang towels with equal drop-distance over the rail. The fascinating holiday regime of defrosting (at 7.30 in the morning) the supplied Fridge/Freezer. Oh yes, the hum of a hairdryer is normal in most households but, when it is coming from the kitchen, serious questions of health, safety and work well above and beyond the call of duty have to be asked.
When leaving Butlin's, we left not only inspirational biblical teaching but experiences of immense value from being with our church and getting along in a way that just isn't possible on a weekly basis! On your way out, don't forget your songbook and a banana!
David Tingley
---
NEWS FROM THE CARPE DIEM GROUP
Carpe Diem, the Junior Church group for 11–14 year olds, is a very lively group!
Along with most groups in the Junior Church, we have started following the Children's Ministry Teaching series for our Sunday morning meetings. As well as bringing the Bible to life, enthusiastically acting out the suggested scripts, we try to remember the memory verse and consider how we can apply what we've learnt to our everyday lives. Other activities, such as the chocolate game, the generation game and visual mimes, have all made this very successful. We always finish with a time of prayer and sharing.
This group really enjoys having fun so we also meet regularly for other activities. Food is favourite so, one wet Saturday evening in March, we invaded Pizza Express in The Broadway. Much enjoyed by everyone (even the adults!) the comments speak for themselves:
"It was a great evening and the meal was excellent" Jonathan Dew
"I had a great night out. I ate a full Pizza even though I had had dinner two hours before. But I only had one piece of Chocolate Fudge cake, unlike Melissa who ate two pieces and chatted up the waiter!" Jessica Elphick
"La Reine was my chosen Pizza which followed a well-battered piece of Garlic Bread. Just managing to eat all this, a chocolate ice cream came my way. This was a really good evening." Jonathan Hall
---
BOYS' BRIGADE
We have continued to be 'on the up' since our last report. Our Juniors are a lively – and noisy – crowd but we still have a nearly full attendance every Friday and the boys have a lot of fun. They won the Battalion Spring Competition, at Portslade, at the beginning of March and are now preparing for a Five-a-Side football tournament at Burgess Hill.
The Company section continues to grow as boys have brought friends along to join. The excellent spirit of the lads helped us to win two Battalion competitions – the Squad Medal for drill and the Scripture Cup, the latter by just one mark over the 26th Brighton Company.
The reconstruction of the Band continues and we have been fortunate to obtain the services of Peter Swann as bugle instructor.
Anchors are a little low numerically, at present, although they have a faithful nucleus and did well at the spring competition a week after the Juniors.
Some folk may feel that competitions figure a little too largely in BB reports but we have to point out that most boys are very competitive and are strongly motivated by competitive activity – it usually helps us to get the best out of most of them. Competitions are, however, only the highlights of a programme that includes much else that cannot be mentioned for lack of space.
For the staff, the most important task is to take the devotions that begin each meeting and we have had the help of some of the Elders in this. We have been supported and encouraged by many church members and we would ask you to give practical support by coming to our Display, at 7.00pm, on Saturday, 19th May.
Geoffrey Cocksedge
---
MARY'S MUSINGS
After reading the suggestion in the recent service sheet that someone new might make a contribution to Good News, I set out to find items of some interest, with a few personal thoughts on certain events, as I saw them.
Mozambique
My feelings of humbleness when I read that the citizens of Mozambique had sent a contribution of £40.00 (a huge sum for some of them) towards the Yorkshire flood relief fund. This reminded me of the widow's mite.
Eddie Stobart
It was inspiring to read Eddie Stobart's book "Only the Best Will Do". We cannot fail to notice his vast fleet of over 700 trucks and lorries on our motorways. Eddie made a personal commitment of faith in Jesus as a teenager and has built his business and his life around that faith. Incidentally, he is a relative of Ann Blake.
Our Wedding Photos
When I showed my granddaughters a picture of our wedding, it was an intriguing thought that, if that event had not taken place, they and their father and two uncles would not be around and we would be missing the joy that our grandchildren have brought to us.
At the Hairdresser's
A challenging thought was her daily reading, which she showed me. "Give God the first part of each day, the first day of each week, the first portion of every pay packet, and the first consideration in every decision." (from The World for Today).
Our Nation
I was glad to read in our Good News of a possible day of prayer for revival and renewal in the URC.
Our Low Point
Our low point, last month (apart from the weather) was being caught in a traffic jam on the M25 and realising that we were stuck in the wrong lane and unable to reach our planned exit.
High Point
My high point was joining 8,000 fellow Christians in The Royal Albert Hall, singing Charles Wesley's hymn "And can it be that I should gain". This was the hymn I sang in 1947 when I first became a Christian and it's still true!
Mary Comber
---
Children under your feet? Not sure what to do?
SUSSEX CHRISTIAN CAMPS
Ages 9 to 13 catered for Sunday 29th July to Friday 3rd August
Fully equipped and safe site in the Sussex countryside, just south of Uckfield, closely supervised by experienced personnel. It is a Christian camp with an emphasis on leading and helping young people to accept Jesus Christ as their own personal saviour.
There is also a Youth Camp, for 14- to 19-year olds, from Sunday, 5th August, to Friday, 10th August.
Both weeks offer an exciting and varied programme
We also need lots of help!
1. Prayer
2. Tent leaders (male and female) for the first week. Are you a Christian, young and active, looking to work with young people? Here's your opportunity
3. Cooks and general kitchen staff (complete teams welcome!)
4. A backroom couple (to stay on site full-time as odd-job, maintenance and general welfare people)
5. Friday, 27th, and Saturday, 28th, help to erect marquees and tents
6. Saturday, 11th, help to pack everything away!
More information, application forms and costs from:
Peter Trump – 01444-451572